Pinterest has launched Shuffles, a tool for creating interactive collages and moodboards on iOS. Is this new, invite-only (for now) app the next great social media platform, or just a tool for brands and Pinterest creators?
Pinterest snuck Shuffles onto the App Store in early August 2022. Despite the lack of fanfare, the "new app designed for collective collaging" is already gaining popularity and has a long waitlist of eager users.
Shuffles is fully integrated with Pinterest and has everything expected from a social media platform, including a content feed, likes, hashtags, and a search bar. What makes Shuffles different is its interactive collage-making functionality.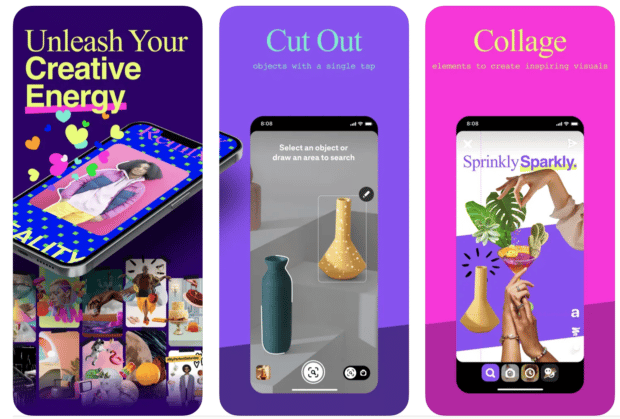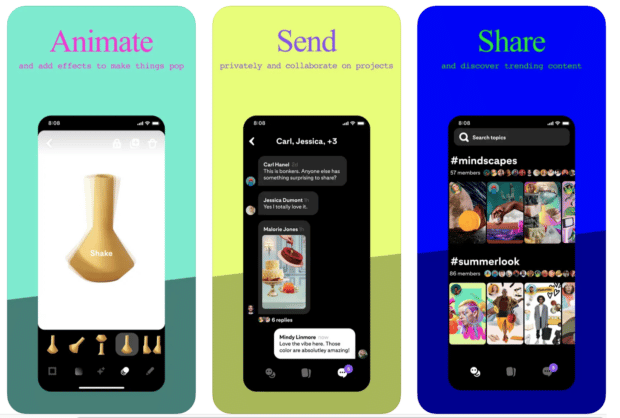 Image source: https://apps.apple.com/us/app/shuffles-by-pinterest/
Shuffles boasts several intriguing features for making interactive and engaging collages on your iPhone, including:
Being able to cut out parts of an image with a single tap

Adding and layering animations and effects

Easy snapping, layering, rotating, and resizing images

"Reshuffling" for collaborative sharing and user-generated content
Every aspect of a collage on Shuffles can be made interactive and clickable. Adding a link pin to your collage provides an easy way to move users from the app to an external website, online store, or Pinterest account.
Collages created on Shuffles can be shared directly to Pinterest with all effects, animations, and links intact. Users can also export collages as images directly to their phones for sharing across other networks.
For social media marketers, the emphasis on interactive content provides a great new opportunity to engage with their audience and drive traffic from the app to their website. The two main features that enable this are link pins and ReShuffles.
The ReShuffles feature lets users remix other content they've found on Shuffles, and for marketers this might be the most eye-popping feature. All ReShuffles include a link to the original creator, so more remixes mean more visibility, links, and traffic.
Producing content designed for remixing and sharing is a recipe for success on any social platform. 
ReShuffles provide an excellent opportunity for user-generated content, particularly in the form of contests and giveaways. It also offers a unique way to get new products or services into the spotlight with direct feedback in the form of user-generated content.
While in its invite-only beta stage Shuffles' in-app audience will remain very limited. The good news is that its integration with Pinterest expands the potential audience to about 433 million active monthly users on that platform. So, getting an invite to Shuffles is an absolute must for anyone already utilizing Pinterest as part of their social media strategy.
But does Shuffles provide enough to become more than just a collaging tool and live up to its billing as a full-blown social network?
Only time will tell how big a bite the app will take out of the competition, or how long until other platforms copy its unique features for themselves.
For now, if you're already using Pinterest then it is worth getting on the waiting list for Shuffles. Once you're in you can fine-tune collages and be ready to hit the ground running when the app becomes fully available to the public on iOS and Android.